Our Lady Rosary Makers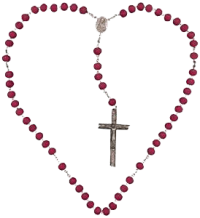 This group of folks are involved in not only making Rosaries to be distributed to those in need but also in teaching our religious Education students how to recite the Rosary and how to actually make a Rosary.
The Rosaries that are made are distributed to hospitals, extended care facilities, to the missions throughout the world, and, of course, to our own parish.
There is always socializing and fellowship when the group meets and the meetings are announced in the Parish Bulletin.